The spirit of an ukiyo-e artist.
The techniques of
Edo craftsmen.
The birth of the Impressionist movement can be attributed to a genius ukiyo-e artist from Edo (now Tokyo), Katsushika Hokusai.
The designs from his famous series of paintings,
Thirty-six Views of Mount Fuji, have been arranged as byoubu, traditional folding screens in which the techniques of Edo craftsmen live on.
These HOKUSAI BYOUBU are a masterpiece of Tokyo art, fusing beauty and technique to bring brilliance and value to daily life.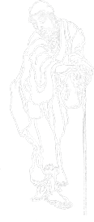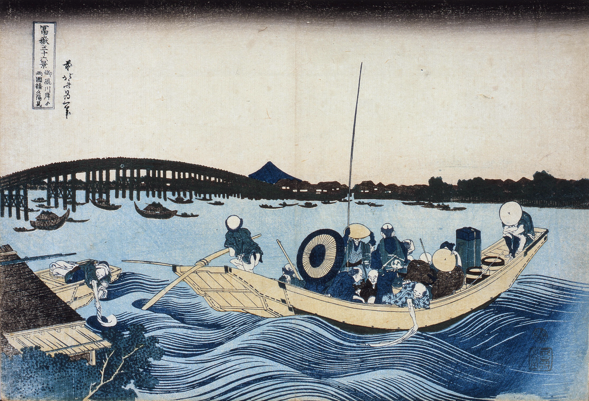 Thirty-six Views of Mount Fuji: Sunset across the Ryogoku Bridge from the
bank of the Sumida River at Onmayagashi (The Sumida Hokusai Museum)
Even the Impressionist
masters were drawn to
Edo's genius ukiyo-e artist
Western artists in the 19th century were drawn to Japan in their search for new forms of expression.
This gave birth to Japonism in Europe.
Among the popular Japanese artists at the time, none garnered more attention than Katsushika Hokusai.
His bold composition and bright colors, as well as the style he used to draw nature, people, daily life, ghosts, and the entire world around him, had an enormous impact on impressionists such as Degas and van Gogh,
as well as other fields of Western art.
The value of Hokusai's work, seen through

Thirty-six Views of Mount Fuji
The masterpiece collection, Thirty-six Views of Mount Fuji by
Hokusai's depicts Mount Fuji, an iconic treasure of Japan, as seen through the four seasons and from various regions.
The most famous of these paintings, The Great Wave off Kanagawa, shows a wave captured in a moment that could only be photographed with a shutter speed of 1/10,000 of a second. This work, created at a time when photographs did not yet exist, can be said to exemplify Hokusai's extraordinarily observant eye and imaginative power.
Hokusai was born and raised in
Tokyo's Sumida area
Hokusai lived most of his nearly ninety years in the Sumida area, in the eastern part of Tokyo.
He painted many local landmarks such as the Sumida River and Ryogoku Bridge. It is said that Hokusai moved a total of 93 times to different homes.
This figure is surely a testament to the curiosity that drove him to continually seek out new ideas.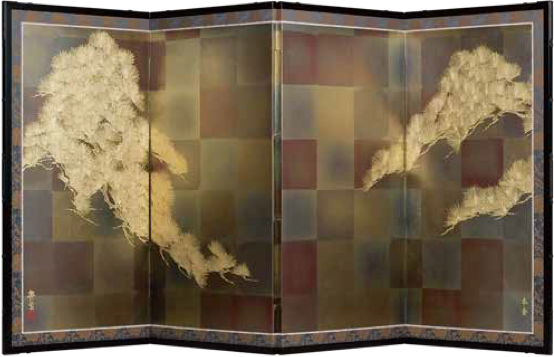 Kinsai byoubu (folding screens embossed with gold leaf):
Colorful nanasai leaf and gold pine (KATAOKA BYOUBU) Interior furnishings
handcrafted by
traditional craftsmen as
loved for 1,300 years
Byoubu are traditional Japanese interior furnishings that have been used as wind screens and dividers for many centuries. The most outstanding feature of byoubu is their distinctive accordion folds. Byoubu represent the Japanese artistic sense in, for example, the way the design can be expressed in different ways by opening the screen at different angles. The cooperation of craftsmen specializing in wooden frames, papermaking, edge coating, and paper mounting is needed to complete this crowning achievement of traditional artistic technique.
Traditional Japanese byoubu utilizing the unique characteristics of Japanese paper (washi)
Although byoubu originally came to Japan from China, they evolved in unique ways in Japan. For example, the technique of using paper hinges to connect the wooden frames is unique to Japan. In addition, when mounting the paintings, Japanese craftsmen carefully discerned the characteristics of each type of paper, and adjusted the amount of water used to wet the paper accordingly. This allows the paper to be precisely mounted. The craftsman's experience and sense are indispensible to the traditional art of byoubu making.
The only byoubu specialty shop
in Tokyo
KATAOKA BYOUBU, which has been in business in the Sumida area of Tokyo for three generations, makes each byoubu painstakingly by hand.
We want our byoubu to stand out in not just Japanese-style rooms, but even in Western-style rooms. That wish is the goal of our quest for new possibilities for byoubu.

Representative manager,
KATAOKA BYOUBU
Tokyo Meister
KATAOKA Kyoichi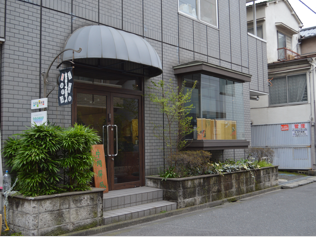 Contact about Hokusai Byoubu
+81-3-3622-4470
Monday~Saturday AM11:00~PM5:00 
Closing: Sunday and a public holiday
We have small Byoubu museum, please let us know before you visit us.
If you would like to purchase byoubu, please contact us. We are only compatible with English.