Hokusai's paintings shine on high-quality paper
stamped with gold, silver leaf, etc.
Our craftsmen reproduce Hokusai's paintings by hand, by manually applying washi with metal leaf thinner than 0.5μm, one leaf at a time.
These HOKUSAI BYOUBU use traditional techniques to
bring forth a luxurious shine.
Cutting-edge special printing techniques
A Tokyo-based printing company uses artisan
techniques to print on leaf stamp paper.
This technique represents the fusion of Japanese
tradition and the latest digital technology.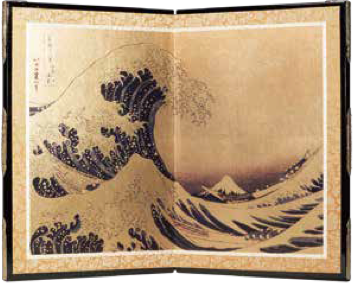 [size]: (width) 39 cm * (height) 27.5 cm (when spread flat)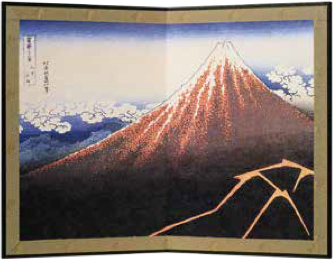 [size]: (width) 39 cm * (height) 27.5 cm (when spread flat)

Reasonably priced HOKUSAI BYOUBU
allow anyone to enjoy decorating with byoubu
Hokusai's paintings are printed on washi and mounted on fiberboard,
allowing anyone to enjoy them at a reasonable cost.
These byoubu match both Japanese and Western-style rooms,
making them easy to use for interior design.
Thin and portable, these byoubu make perfect souvenirs.
Made with high-quality engravings
All HOKUSAI BYOUBU are printed by
using engravings that are still in excellent condition,
owned by The Sumida Hokusai Museum.


Large-size byoubu, made to order
by using authentic techniques
These fine works of art utilize traditional techniques,
such as using paper hinges to join each wooden frame with the next.
Their large size lends the impact of Hokusai's paintings to any room.
These byoubu can be used as dividers, or can be
spread flat and mounted on a wall.
Made to order
Because each piece is individually made to order,
you can choose the size, the number of folds,
the painting to use, and whether you want to use washi,
gold leaf, silver leaf, or other type of metal leaf.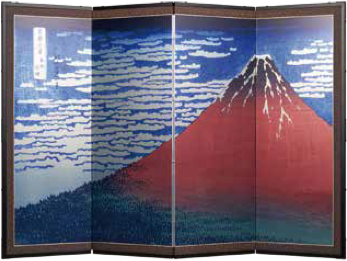 (width) 178 cm * (height) 120 cm (when spread flat)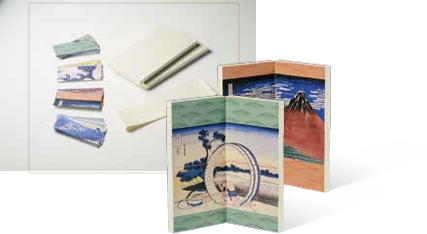 (width) 20 cm * (height) 20 cm (when spread flat)

A new painting every time you open it?
Your very own handmade "Karakuri byoubu"
These mysterious byoubu display one of four Hokusai paintings —
but the painting you see is different every time!
While making your own byoubu, you can deepen
your understanding of this art form.
These affordable byoubu make fun crafts for all ages,
and are popular as souvenirs.
Byoubu craft kits
These fun kits allow you to build your own byoubu,
while also solving the mystery of the changing paintings.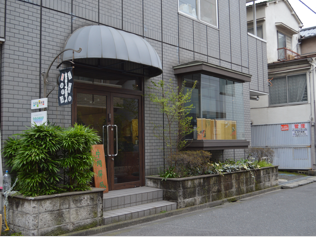 Contact about Hokusai Byoubu
+81-3-3622-4470
Monday~Saturday AM11:00~PM5:00 
Closing: Sunday and a public holiday
We have small Byoubu museum, please let us know before you visit us.
If you would like to purchase byoubu, please contact us. We are only compatible with English.